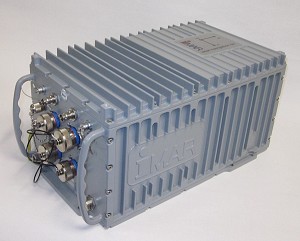 St. Ingbert, Germany - Sep 6, 2011 -
iMAR GmbH, a manufacturer of inertial measuring systems for navigation, stabilization, surveying, guidance and control, being designed for defence and industrial applications, has delivered several inertial navigation systems of type iNAV-FMS and iNAV-FJI to an Asian customer. The systems are used inside of an UAV for antenna stabilization, precise geo-referencing and motion control.
The advanced design of these navigation systems, which are made in Germany, provides all common interfaces like Ethernet, RS422, MIL-STD-1553B and CAN, internal data storage and position accuracy on sub-decimeter level.
The systems of class iNAV-FJI, iNAV-RQH and iNAV-FMS are used also on naval and surface vessels and manned aircraft and helicopters.
iMAR manufactures all classes of inertial navigation systems and furthermore provides a service to provide customer specific solutions as well as form-fit-function replacements of existing systems.
iMAR Navigation, based in St. Ingbert, Germany, where it has its headquarters, development center, environmental and motion test labs and production site, has extensive experience in conception, development, production and maintenance of inertial measuring and navigation systems destined to a wide range of standard and special applications in various fields like defence, surveying, stabilization, guidance and control. iMAR is certified to ISO9001 and EN9100. With its EASA Part21 G certification iMAR is enabled to manufacture components and systems for aviation.
Internet: www.imar-navigation.de
Contact: sales@imar-navigation.de
Company Center:
iMAR Navigation GmbH